---
POWERSUPPLY SYSTEMS and ARC LAMPS
---
Bachur and Associates offers a complete line of

Power Adjustable and Intensity Controlling Hg-Ar, Xe and
Xe-Hg Arc Lamp Powersupply Systems

for UV Exposure Systems, UV Lightsources, UV Curing Systems and Mask Aligner Systems.
Powersupplies from 200W through 5,000W are available. B&A also provides powersupply systems having dual capability (200W or 350W and 350W or 500W).
Power Adjustable, Constant-power Powersupplies
provide a +/- 15% power range with better than +/- 0.5% power regulation.
Intensity-controlling Powersupplies
include a dual sensor capability for monitoring and controlling the intensity within a specific spectrum. Dual Channel Optical feedback loop provides with better than +/- 2% intensity precision and long term repeatability. These systems incorporate a "Change Lamp" and "Maximum Power Operation" alarm.
| | |
| --- | --- |
| 500W NUV Powersupply System | 1KW DUV Powersupply System |
POWERSUPPLY SYSTEM INFO

| Power | Idle Power | Operating Range |
| --- | --- | --- |
| 200W | 190W | 150W - 250W |
| 350W | 300W | 200W - 400W |
| 500W | 450W | 375W - 600W |
| 1,000W | 925W | 800W - 1,200W |
| 2,000W | 1,750W | 1,600W - 2,100W |
| 3,500W | 3,250W | 2,750W - 3,750W |
AVAILABLE SENSORS

| | |
| --- | --- |
| Near UV | NUV365, NUV400, NUV436 |
| Mid UV | MUV280, MUV300, MUV310NB |
| Deep UV | DUV220, DUV254, DUV260 |
---
UV SHORT ARC and UV GRID LAMPS
---
Bachur & Associates offers replacement Arc Lamps for UV Exposure Systems manufactured by Oriel, Canon, Karl Suss, Quintel, OAI, HTG, ABM and JBA.
Lamps offered by B&A's are either from the original manufacturer or an alternative lamp that provides performance equal to, or better than, the original equipment. All lamps are competitively priced. Delivery is generally from stock.
Lamp types include Near UV (Mercury-Argon), Visible (Xenon) and Deep UV (Xenon-Mercury) versions manufactured by Ushio, Advanced Radiation, Hamamatsu, Actinic Spectra and American lamp Technology. Lamps from other manufacturers are also available.
Bachur & Associates also offers replacement
Grid Lamps for DUV Flood Exposure Systems

manufactured by OAI, HTG, ABM and JBA.
Near UV and Deep UV Lamps...
Near UV Short Arc Lamps: 200W, 350W, 500W, 1,000W, 1,600, 2,000, 3,500, and 5,000W Versions
Mid UV Short Arc Lamps: 350W, 500W, 1,000W, and 2,000W Versions
Deep UV Short Arc Lamps: 350W, 500W, 1,000W, and 2,000W Versions
Deep UV Grid Lamps
Short Arc Lamps and Grid Lamps
200W - 2,000W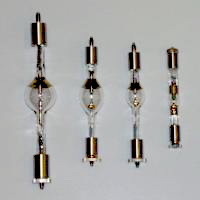 ---
F
or additional technical information and pricing contact us at...
Tel: (408) 988-5861
Fax: (408) 982-9513
Email: sales@bachur-n-associates.com